Welcome to Wulfgard, a dark fantasy universe in which all myths are true.
Feel free to explore using the menu above!
Upcoming Books:
Wulfgard: Crossroads
by Justin R. R. Stebbins
(working title)
This heavily illustrated novel will continue the story that the comic book Wulfgard: Into the North started, following the lives of four groups of Wulfgard characters: three Northern wanderers, a dark cult of assassins, the the royal family of Rimegard, and the subterranean Dvergar. Due to the machinations of one man, the fates of these characters are destined to intertwine and eventually come together in Rimegard, a city that stands on the brink of destruction. War is raging all around them, and each character must question their loyalties and values in the face of a changing world. Will they unite, clash, or fall?
Wulfgard: The Prophecy of the Six, Book Two
by Maegan A. Stebbins
(exact title to be decided)
The second book in Maegan's main Wulfgard series will pick up where Knightfall left off, following Tom Drake and friends as they face an uncertain future. Drake's life has been shattered after the great battle to save Illikon, and now he finds himself wandering in search of not only answers, but a new purpose in life. The groups that were hunting him have not stopped, and now they are joined by some of the most powerful forces in the Empire, including some of Drake's former allies. Drake's situation is desperate - more desperate than almost any normal man could handle. But he is far from a normal man...
Currently Available Books:
NEW RELEASE!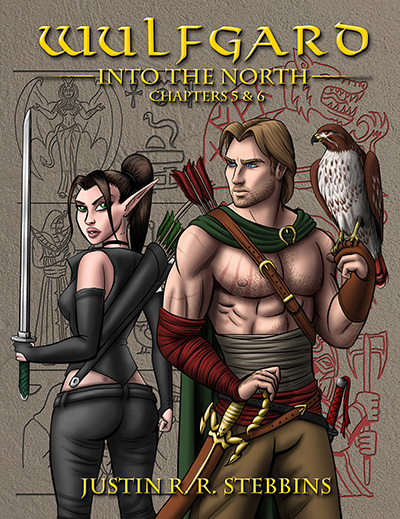 Wulfgard: Into the North: Chapters 5 and 6
A Graphic Novel
written and drawn by Justin R. R. Stebbins

The next two chapters of Wulfgard: Into the North pick up where the first book left off, continuing the stories of Whisper and the Wanderer! This 40-page paperback comic book features improved art throughout chapter 6 and bonus art pages! Also available in a signed and numbered Limited Edition version with cover art by Maegan A. Stebbins, while supplies last! Limited edition only available at Saber-Scorpion's Lair.



Paperback: $12.75
or



Paperback: $12.75 - $19.99 (Limited Edition, signed)

Wulfgard: Knightfall
A Novel
written by Maegan A. Stebbins
with contributions and illustrations by Justin R. R. Stebbins

Knightfall tells the story of Sir Tom Drake, a knight of Illikon, as he faces a barbarian invasion under orders from his ruthless Imperial superiors. Meanwhile, something is hunting him... terrifying werewolves and dark assassins hound his tracks, and when he sleeps he is plagued by nightmares. The events that are about to unfold will change his life, and the world, forever.

Paperback: $19.99
Digital: $9.99
or

Paperback: $19.99


Tales of Wulfgard, Vol. 1
A Collection of 5 Wulfgard stories by
Justin R. R. Stebbins and Maegan A. Stebbins

or

or buy from Smashwords
Digital: $0.99
Read the preview story!


Wulfgard: Into the North
A Graphic Novel
written and drawn by Justin R. R. Stebbins

In the frozen North, a lone Wanderer is hunted by a werewolf. In the Imperial capital, a young elven thief is caught by a cult of dark conspirators. In the city of Rimegard, a princess struggles to hide a terrible secret. And in the darkness deep beneath the world, a clan of dwarves fights an ancient war. These four groups of people have one thing in common: Their fates are destined to intertwine. The graphic novel Into the North introduces them, and tells these first four chapters of a much larger tale. Contains all of the pages posted online as the Wulfgard webcomic, with improved artwork on several pages, plus 8 all new pages!

Paperback: $15.99
Digital: $9.99




Wulfgard: Into the North LIMITED EDITION!
This edition of Into the North features an alternate, minimalist cover design, and each of the 100 copies is signed and numbered by Justin and Maegan!

Paperback: $23.99



(click to enlarge photo)
Wulfgard Playing Card Deck
A full 54-card deck of standard playing cards, with a different full-color illustration of a Wulfgard character on the face of each card! Comes in a clear plastic case. Available only from our website!

Price: $9.99